Frequently Asked Questions
A few more concerns or frequently asked questions:
How can I be assured to get the same finished product for which I have given the specifications every time?
Suite42 works upfront with all the clients to understand their specific requirements in detail. While starting with any project, we create a standard operating procedure (SOP) for the assembly and manufacturing along with the testing and finished product inspection. The document is prepared and the client is also looped in for a better understanding. Once the first sample is approved by the client, we finalise the procedures. This remains with us and the same procedure is followed for all the production cycles ensuring desired quality each and every time.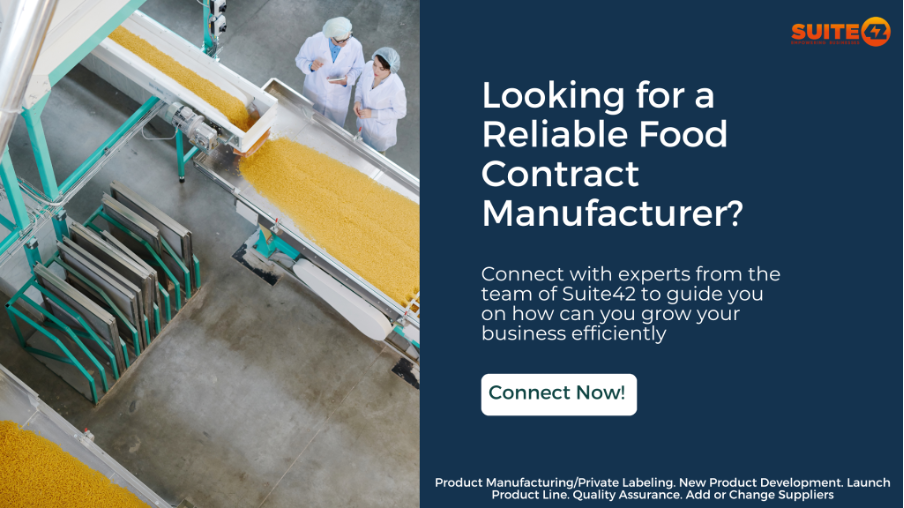 What happens after I have given you the project? Whom do I contact for doubts or concerns?
In Suite42 we believe in uniform communication with the clients. Once you have completed the onboarding procedure with the help of our sales rep, you will be assigned a project manager who will be your POC throughout the project. He/she will keep you updated about the progress. Other than this, if you have any questions, concerns, or escalations, you can reach out to any of our founders directly and they will help you resolve them. At Suite42, we work to serve our clients to the best of our ability to become their long-term partners.
I had a lot of bad experiences in the past with the food contract manufacturer; so how can I be assured that I would not face the same?
Conflicts or disappointments arrive because of a lack of communication. Issues might also arise when not addressing the process of dealing with uncertain or unseen events. At Suite42, we take pride in disclosing all the details upfront. Not only does this help in creating seamless transactions, but it also enables productivity in both parties.
In some cases, some clients might consider changing materials or suppliers after the production of a few batch orders. In that case, you can connect with your project manager and discuss the same, and he/she will help you with the scope of the possibilities.
What categories does Suite42 cater to?
Suite42 manufactures products across Food Processing, Staples, Agri-commodities, FMCG, and Nutraceuticals.
List of Categories: Instant Foods, Frozen Food, Whole Spices, Beverage, Dried Fruits/Nuts, Rice & Rice products, Health and Wellness, and Snacks.
Click below to explore categories

If you have any more doubts or questions, get in touch right now with the team of Suite42 and pave the path for your successful brand.
Client's Testimonial: