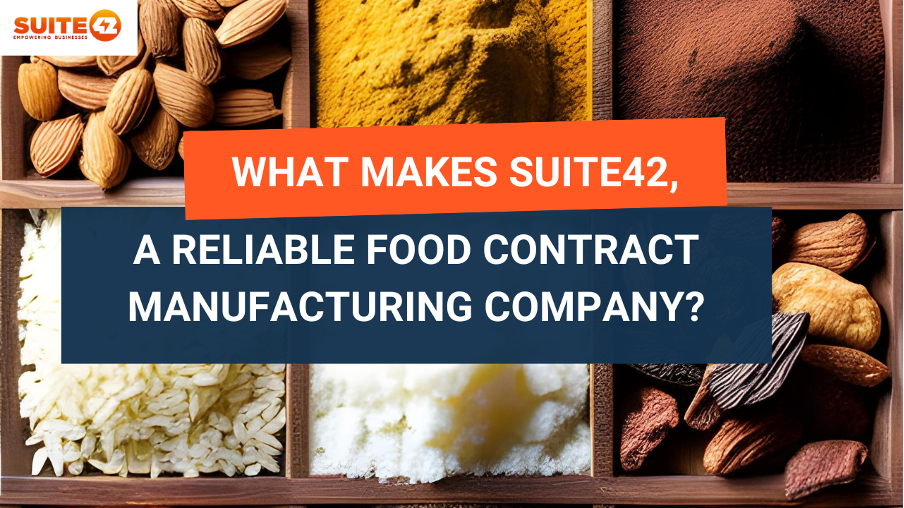 What makes Suite42, a Reliable Food Contract Manufacturing Company?
April 25, 2023
Why is Suite42 a reliable choice? With a commitment to quality, efficiency, reliability, safety, and innovation, Suite42 ensures desired standards for all food and beverage products.
Introduction
In today's growing and ever-evolving era, the food and beverage industry faces multiple challenges; From sourcing raw materials to maintaining quality control, it can be a daunting task for businesses to manage everything on their own. One approach that gained popularity in recent years is food contract manufacturing. Choosing a Reliable food contract manufacturer for your company is a critical decision.
Suite42 is a food contract manufacturing and food processing company in India that helps you to build and operate a digital manufacturing supply chain for your brand. Suite42 aims to revolutionize the Global Supply Chain. They have established themselves as a trusted partner for many of the world's top food and beverage companies. Whether you are looking for manufacturing and packaging solutions for your next product launch or need to source authentic and safe raw materials, Suite42 has the expertise and experience to help you succeed.
Meet the Founders
The team that made Suite42 a reality and is consistently working towards creating value for their community:
1.   Rahul Ratan, Co-Founder & CEO

2.  Ramakrishna Cheruku, Co-Founder

3.   Shriram S, Co-Founder

4.  Chethan S, Co-Founder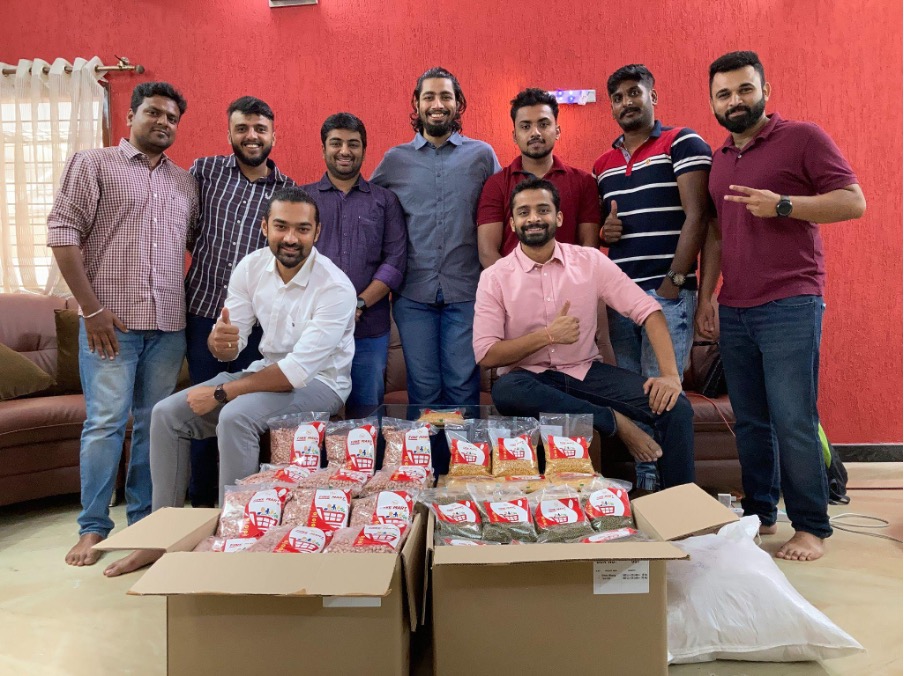 Solution provided by Suite42:
Food Processing & Food Packaging
New Product Development.
Launch of existing or New Product Lines.
Add or change suppliers for a product.
Let us understand, Why Suite42 is a trustworthy third-party food manufacturing and food processing company:
Quality Assurance
Suite42 has established standard operating processes which ensure quality assurance at every stage of the production cycle.
Progress Tracking
This is a solution to a prevailing challenge that both the food contract manufacturer and the vendor face i.e the gap in communicating the progress of the production cycle. Suite42 has enabled progress tracking for their clients that helps them to receive regular updates on the stages in product manufacturing. This empowers the vendors to plan and manage their inventory efficiently and keeps them ready to deal with any increase in market demand.
Scalability
Suite42 associates your reach to well-equipped facilities that can help you scale your production at any given time. During an increase in market demand, you will have your partner to back you and instantly increase the production operations to meet your requirements.
Certifications
All the required certifications which establish their trustworthiness and legal compliance are present with Suite42 and the suppliers associated with it: ISO-Certifications, FSSAI, GMP, HACCP, Halal, and Organic certification.
A Must-Read Blog: 5 Benefits of Food Contract Manufacturing Companies in India
Frequently Asked Questions
A few more concerns or frequently asked questions:
How can I be assured to get the same finished product for which I have given the specifications every time?
Suite42 works upfront with all the clients to understand their specific requirements in detail. While starting with any project, we create a standard operating procedure (SOP) for the assembly and manufacturing along with the testing and finished product inspection. The document is prepared and the client is also looped in for a better understanding. Once the first sample is approved by the client, we finalise the procedures. This remains with us and the same procedure is followed for all the production cycles ensuring desired quality each and every time.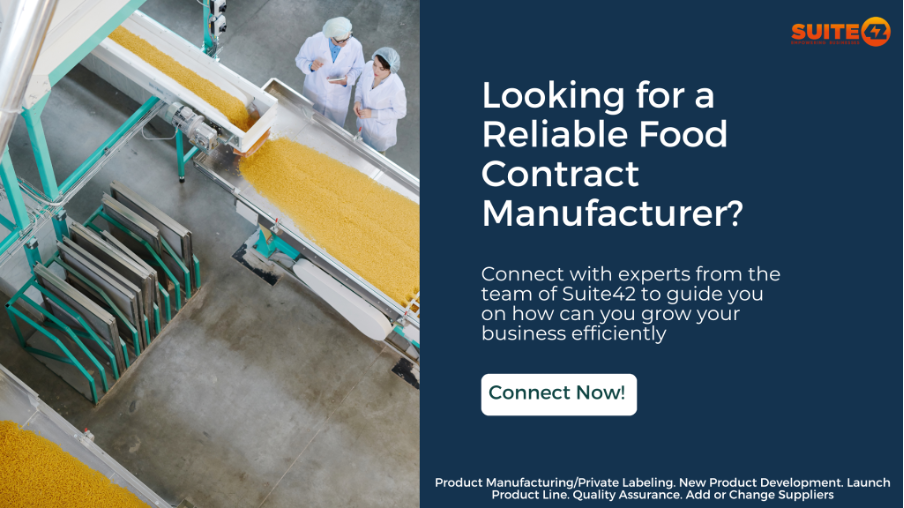 What happens after I have given you the project? Whom do I contact for doubts or concerns?
In Suite42 we believe in uniform communication with the clients. Once you have completed the onboarding procedure with the help of our sales rep, you will be assigned a project manager who will be your POC throughout the project. He/she will keep you updated about the progress. Other than this, if you have any questions, concerns, or escalations, you can reach out to any of our founders directly and they will help you resolve them. At Suite42, we work to serve our clients to the best of our ability to become their long-term partners.
I had a lot of bad experiences in the past with the food contract manufacturer; so how can I be assured that I would not face the same?
Conflicts or disappointments arrive because of a lack of communication. Issues might also arise when not addressing the process of dealing with uncertain or unseen events. At Suite42, we take pride in disclosing all the details upfront. Not only does this help in creating seamless transactions, but it also enables productivity in both parties.
In some cases, some clients might consider changing materials or suppliers after the production of a few batch orders. In that case, you can connect with your project manager and discuss the same, and he/she will help you with the scope of the possibilities.
What categories does Suite42 cater to?
Suite42 manufactures products across Food Processing, Staples, Agri-commodities, FMCG, and Nutraceuticals.
List of Categories: Instant Foods, Frozen Food, Whole Spices, Beverage, Dried Fruits/Nuts, Rice & Rice products, Health and Wellness, and Snacks.
Click below to explore categories

If you have any more doubts or questions, get in touch right now with the team of Suite42 and pave the path for your successful brand.
Client's Testimonial:
As we started our trade with Suite42, we were a little skeptical about how it would work. We kept both products, the ones packed by us and the products sourced and packed by Suite42. Soon we realized that more than the items packed by us, products from Suite42 ... "
Suite42 is a VC-funded startup that helps Enterprises/Brands access best-in-class manufacturing capabilities across India.