Are you a Food or Beverage Brand Owner? Have you considered the option of a Food Contract Manufacturing firm for your business? Let me share some information about Contract Manufacturing in the Food Industry with you.
Nowadays, food contract manufacturing companies are most preferred by the food & beverage businesses in the world. In the present scenario, the demand for food contract manufacturing companies in India is increasing. According to a report by Invest India, food contract manufacturing is expected to reach $535 billion by 2025–2026. This is due to the need for contract manufacturing companies in the food industry. It has been observed that contract manufacturing has become a necessity for food and beverage companies to thrive in the market. 
The changing customer preference and the rapid growth of the food and beverage market need brands to be quick and smart about their offerings. This constant change, need for supply, and cutthroat competition make contract manufacturing in the food industry the need of the hour to help brands be efficient in the game.
A relationship with a contract food manufacturer usually entails contracts and formal agreements to make sure that your rights as a client are protected at all times.
What is Food Contract Manufacturing?
Also known as "co-manufacturing," Contract manufacturing is a type of business in which a client hires a contract manufacturer to manufacture and process products. It is an outsourcing method for producing products by taking in the resources and expertise of a contracting company. The goods will be manufactured under the brand's label. This is called private-label manufacturing.
Contract manufacturing is a way to reduce the difficulty of running your business by having a dedicated manufacturing company produce your product line.
Can Food Contract Manufacturing Help in Increasing Business Efficiency? 
Yes, Absolutely!
Quality and safety are essential components that need serious consideration throughout food manufacturing. Brands that offer food products have the resources and assets to guarantee that their manufacturing process meets the standards and requirements. Unfortunately, not all food service companies have the ability or budget to create and maintain a facility of their own or have the manpower to meet the demands of their consumers. 
Organizations turn to contract manufacturers when they either don't have their own production facility, workforce, or necessary equipment, or their facility isn't large enough to meet the current demand.  
Along with this, many food and beverage companies look to build new products or launch an additional product line to expand their business. To execute this plan the companies need to invest heavily in research and development. Get the right experts to do thorough research. This takes time and resources to bring the plan to action, along with the ambiguity of how much funds need to be instilled. In that case, contract manufacturing is a smart choice. They help brands be more efficient with their resources. 
A group of experts put the plan into action in a hassle-free and simpler manner. A more productive approach to growth
This is how Food Contract Manufacturing helps to increase Business Efficiency.
How does Contract Manufacturing work?
Typically, a company hires a food contract manufacturing company and provides its product expectations and guidelines. The manufacturing companies work to design a product idea or supply a prototype, sample, or outline for the product. The manufacturer, as a rule, creates a trial product to ensure it meets quality standards.
Once the process is set the manufacturer produces the best quality products in the required quantity and sends it to the hiring company. 
Here Suite42 provides one of a kind solution to their client as a contract manufacturing firm, which is progress tracking of the goods. This way the hiring companies are aware of when their inventory will reach them, making it easier for them to plan and manage their inventory better for sales.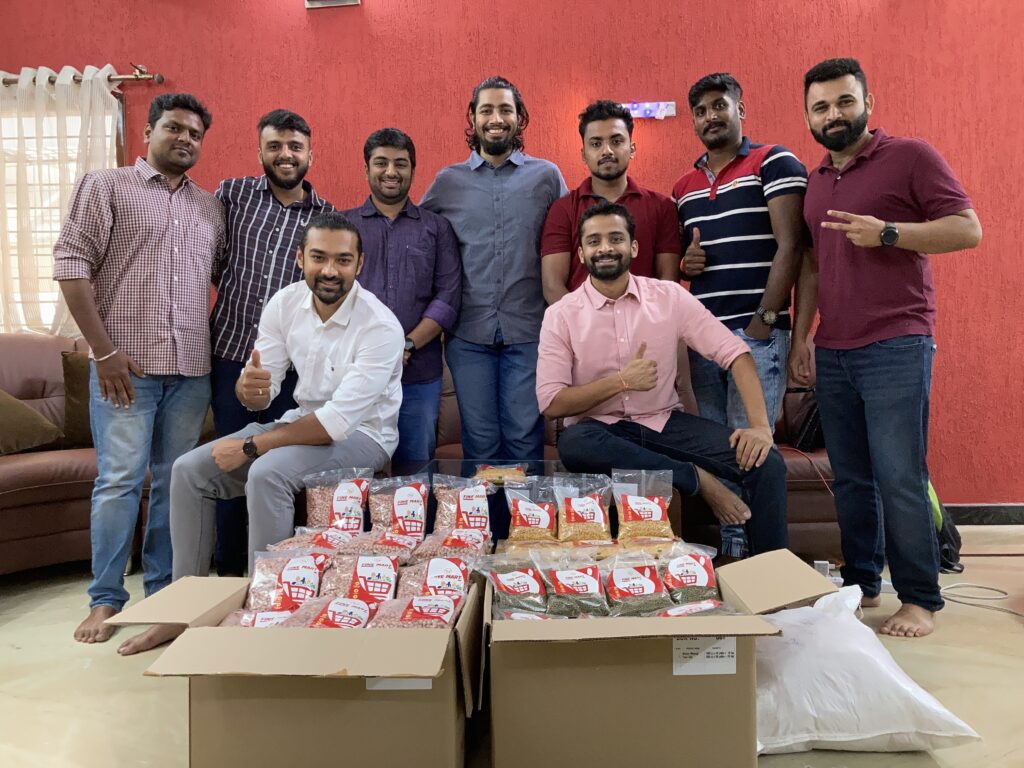 What are the Services that a Food Contract Manufacturing Company provides?
There are a few Food Contract Manufacturing Companies and they can defer from each other on the category of food they expertise in. Some may have additional service that is designed for their clients looking at their challenges.
Along with Product Manufacturing/Private Labeling and Food Packaging, a Contract Manufacturer also assists brands with Research & Development and New Product Development, eradicating unnecessary hassle and expense. Suite42's current area of focus is Agri-Commodities, Food Ingredients, Processed Foods,  and Nutraceuticals. Learn More about the categories here.
 What are the Qualities of a Good Contract Manufacturer?
•      Certification: ISO-Certification, FSSAI, GMP, HACCP, Halal, USFDA
•      Well-maintained facilities
•      Excellent Reputation
•      Time Management for deliveries
•      Financial Stability
•      Quality Control
Upcoming Article: How to Choose a Good Food Contract Manufacturer?
What are the Benefits of Food Contract Manufacturing?
A few benefits of hiring a good food contract manufacturer are:
1. Quality assurance
Isn't quality a very big factor for a Food & Beverage Brand?
Food contract manufacturers generally have all the Modern Technology & Significant Resources necessary to produce superior-quality products. The brands can access a team of experts as well as advanced manufacturing equipment. The end product will be more functional and well-designed. Many are scared that contract manufacturing might hurt the quality. However, it is not true. Good food contract manufacturers provide the best facilities to produce high-quality products. Good quality products also depend on good quality raw materials. Contract Manufacturing firms like Suite42 help their clients to add or change Suppliers for optimal growth.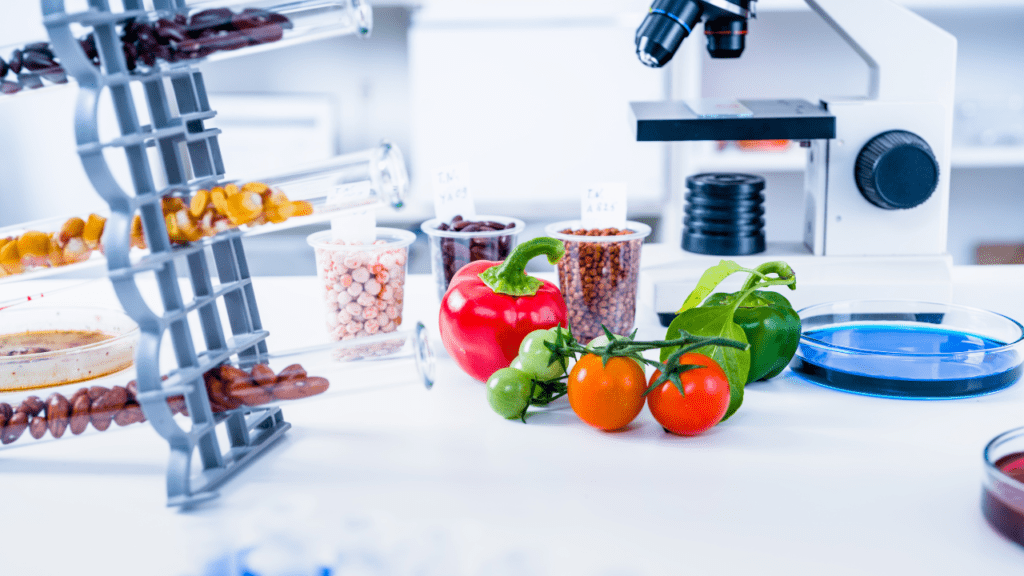 2. Cost-effectiveness
Do you wonder how a food contract manufacturing company can be cost-effective for food and beverage brands?
Cost-effectiveness is one of the crucial benefits of contract food manufacturing. Food brands can reduce costs and advance their bottom line by outsourcing functions to a reliable team. It becomes cost-effective as contract manufacturing firms work for multiple customers. Since their land, machinery, manpower, etc is allocated to work for various processes, they are able to offer food and beverage brands a competitive cost. 
Along with this aspect, the capital investment needed for any food & beverage brand to acquire land, install machinery, deal with maintenance, and labor is high, especially for new food and beverage brands. 
If you have a product that experiences seasonal demand, having an entire system set up to manage seasonal demand will be unfavourable. During the non-season, the capacity will not yield any returns. In that case, deploying a contract manufacturer for the function will be a cost-effective decision.
3. Better Scalability
Are you thinking of scaling or expanding your business?
For every food brand or beverage brand, scaling is one of the most important steps in the business. 
Saying that scaling is also one of the most expensive steps in business. This step is also accompanied by hidden or overlooked costs. 
Partnering with a contract manufacturer enables a food company to scale production to meet the market demand. Contract manufacturers also keep a theoretical log of your manufacturing preferences and product reproduction so you can quickly scale production up or down. 
Food Contract Manufacturers have ample capacity to enable scalability without incurring significantly steeper costs. After covid19, many companies are coming up with innovative products. In the beginning, firms choose not to manufacture products in higher quantities. Once the product performs well in the market, they wish to scale. Scaling manufacturing is not easy, especially now with the erratic changes in consumer behaviour. That's when contract manufacturers come into use. It lets you easily expand in the market.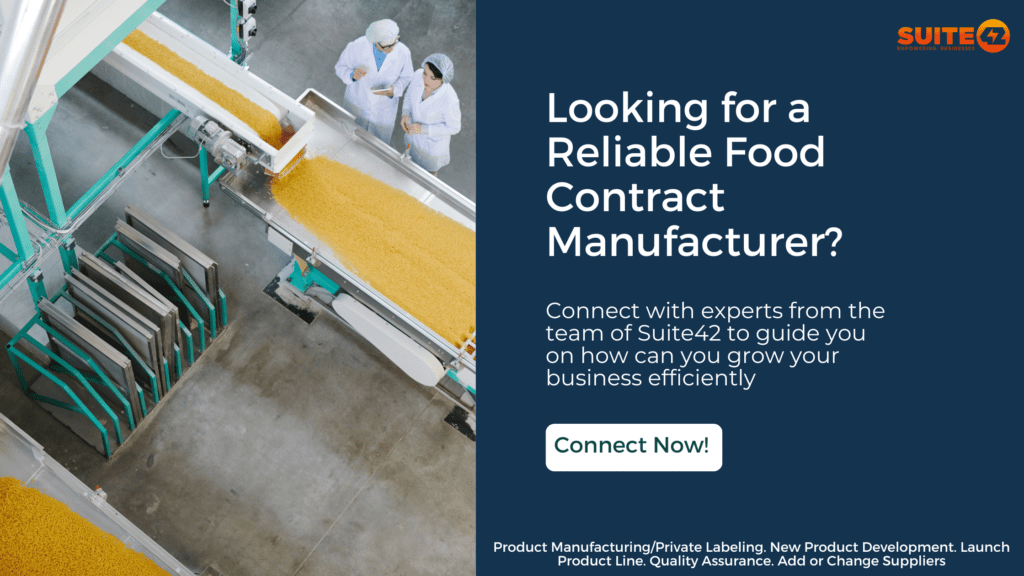 4. Accurate Estimates and Timelines
When food and beverage brands set out to build a new product or a new production line, estimating cost and timelines get difficult. On the other hand, a good contract manufacturing company in the food industry is able to provide an accurate timeline for when they can expect a complete order and the total cost to produce the product. This helps the brand to allocate its resources well.  Additionally, food contract manufacturing firms should be able to provide regular updates on their progress so that the brand can stay informed throughout the process.
5. Complete Solution
Food contract manufacturers provide end-to-end solutions for product manufacturing. That is right from building a prototype to large-scale production along with the different services like product research, food packaging, designing, private labelling, and sourcing. This serves as a one-stop solution for businesses and saves them from all the hassle of managing multiple aspects.
Conclusion
The Food and Beverage Business is quite adventurous. And Yes! Food contract manufacturing company is necessary for the brands to flourish in the market. However, it is also very important that we choose the right and reliable contract manufacturing partner to grow with efficiency. This task can be taxing. 
You can learn How to choose the Right Contract Manufacturing Company for your Brand. Stay Tuned!