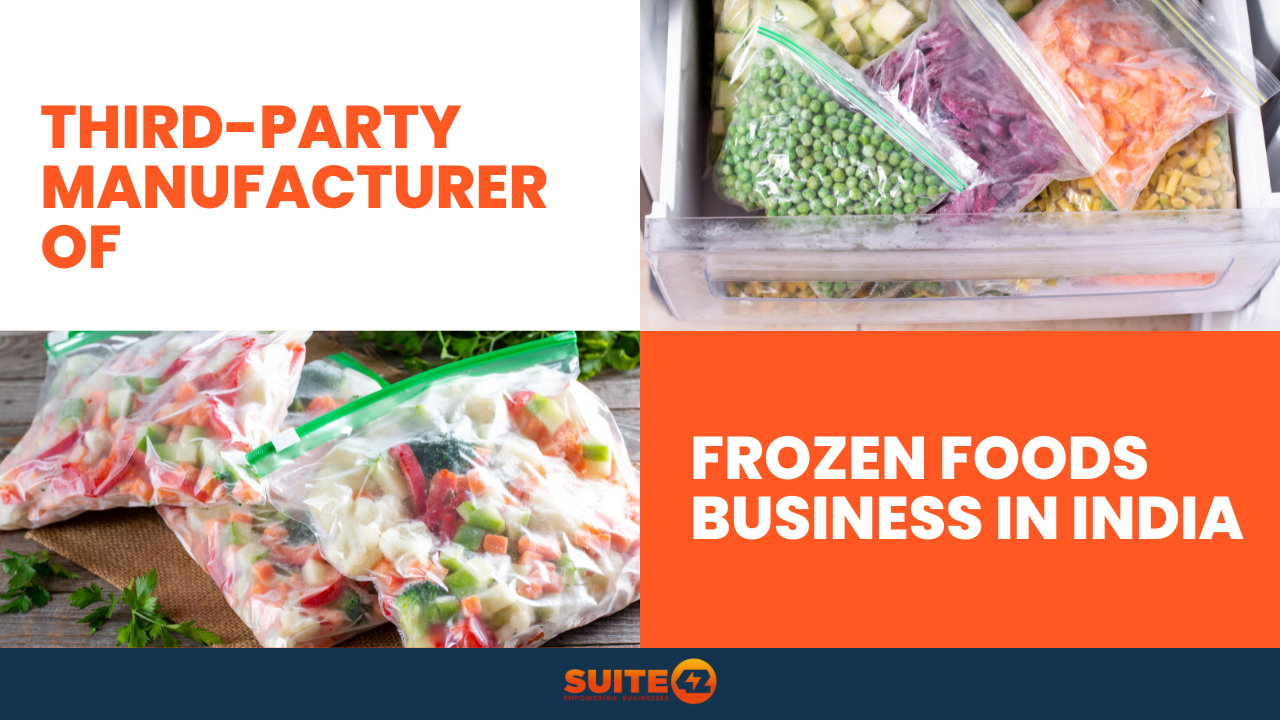 A Third-Party Manufacturer of Frozen Foods Business In India
May 16, 2023
In today's world, a third party manufacturing of frozen food not only helps with production but also guides food and beverage businesses to grow in the market. In this blog, we will look at the aspects that will assist in how Frozen Food Businesses can operate in India. 
-What is the Market Potential of Frozen Food in India?
-Opportunities and Challenges in the Frozen Foods Business.
-Guidelines for Starting a Successful Frozen Foods Business in India.
-How can Food Contract Manufacturers Help?
The frozen foods industry in India has experienced a surge in popularity over the past few years; driven by the busy lifestyles of consumers and their increasing demand for convenient and quick meals. Starting a small-scale frozen foods business can be profitable business, provided that it is executed with proper planning and attention to detail. 
Let's look into the key aspects of the frozen foods business in India, such as manufacturing good quality products, designing good packaging for the product, obtaining licenses and permits, selling frozen food products, and more. 
Urban cities present a lucrative opportunity for entrepreneurs looking to start a food business. It is predicted that the frozen foods market in India will grow to INR 192.96 billion by 2024, representing a robust compound annual growth rate (CAGR) of approximately 17.74% over the period from 2019 to 2024. This indicates a strong potential for growth in both the supply and demand for frozen food products in the near future.
What is the Market Potential of Frozen Foods in India?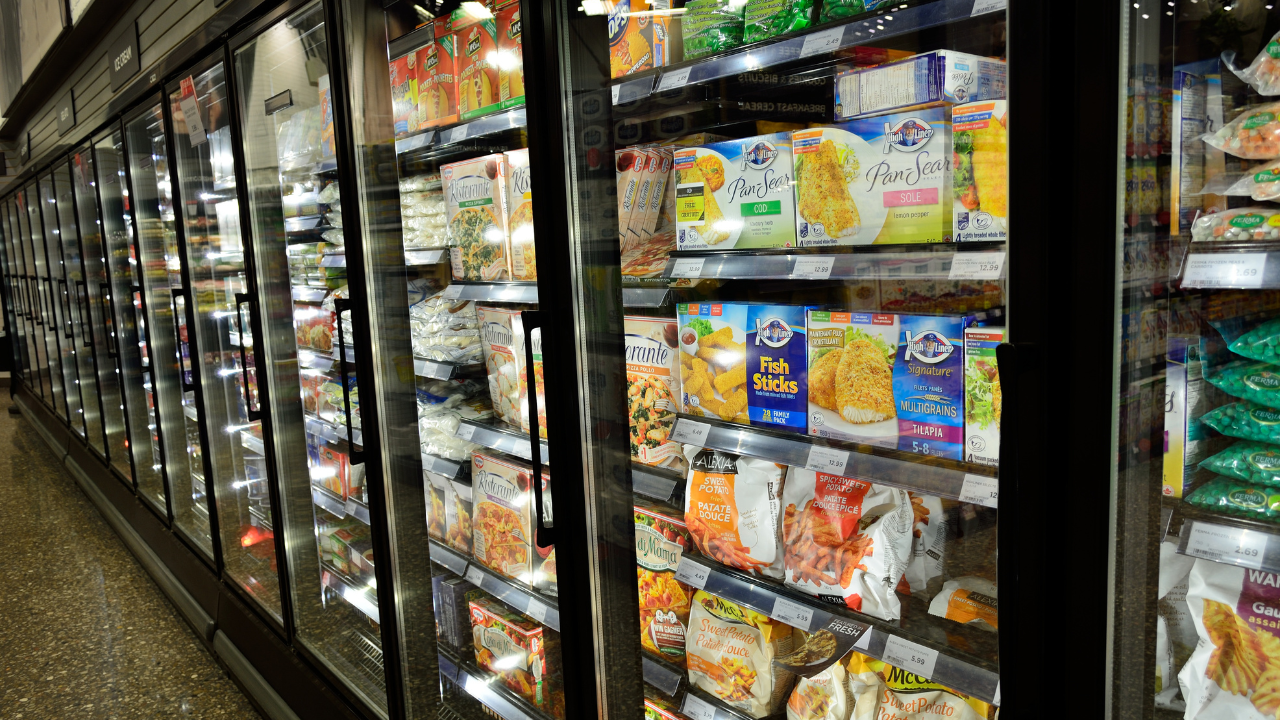 City dwellers are the primary target audience for frozen foods businesses, as rural areas typically have access to fresh, locally produced food. Therefore, it is not recommended to target frozen food products in the rural market. 
Cities like Bangalore, Mumbai, Delhi, Hyderabad, Ahmedabad, and Chennai to name a few, offer a more lucrative market for frozen food businesses. Unlike fresh produce, frozen food products can be stored for months without spoiling, reducing food wastage and offering greater flexibility in terms of quantity and cooking requirements.
Profitability of Frozen Foods Business in India
There are several reasons why it is considered a profitable business:
Increasing demand:


With the ever-changing lifestyle, the demand for convenience foods has been increasing steadily. Frozen foods serve as a convenient option for consumers who are looking for quick and easy meal solutions

Longer shelf life:

Frozen foods have a longer shelf life as compared to fresh foods, which reduces the risk of spoilage and wastage. This makes it an attractive option for retailers as they can stock up on these frozen products without worrying about them going bad quickly.

Cost-effective: 

Frozen foods can be produced in large quantities, which helps to keep the production cost low. This allows companies to offer products at competitive prices, making it an affordable option for consumers.

Availability of raw materials: 

India is a major producer of fruits and vegetables, and the availability of raw materials makes it easier for companies to source ingredients for frozen food products.

---

You May Like to Read: New Packaging Trends in 2023

---

What are Growth Opportunities and Challenges in the Frozen Foods Business in India?

Growth Opportunities in the Frozen Foods Business
The frozen foods industry in India has experienced significant growth in recent years, owing to various factors that are driving its expansion. Here are the key growth drivers of frozen food businesses in India: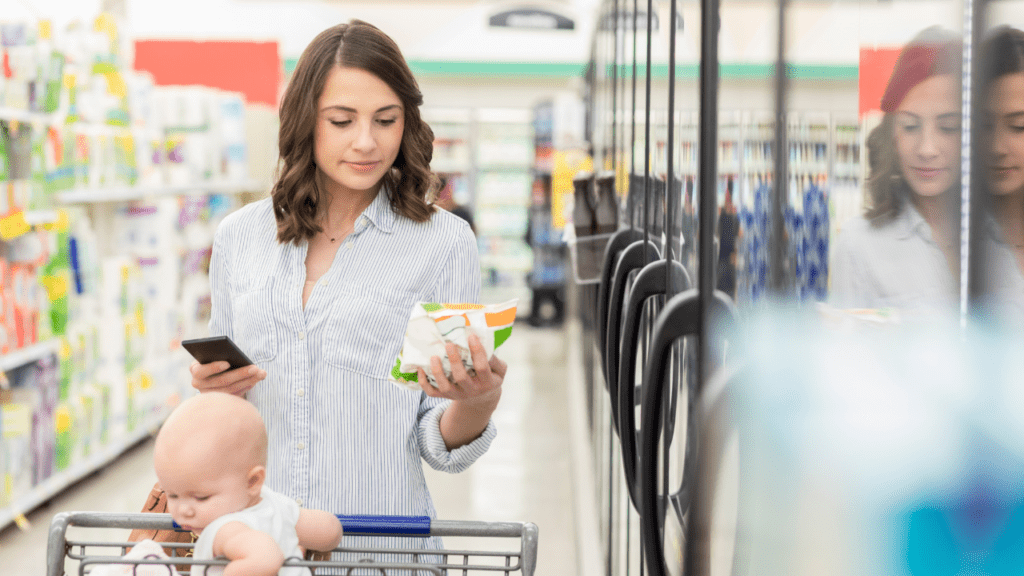 Increase in Urbanization: 

With rapid urbanization, there has been a rise in demand for convenience food options, which has led to the growth of frozen food businesses, especially in the cities. As more people are migrating to urban areas, the demand for quick and easy meal solutions is set to rise in the near future.

Change in Lifestyle: 

People in India are adapting to modern lifestyles that are busier and more fast-paced, which means they have less time to cook meals. This has led to an increased demand for frozen food products that can be prepared quickly and easily.

Increase in Disposable Income: 

As the disposable income of the Indian population increases, people are more willing to spend money on convenient food options like frozen food products. This has resulted in a rise in demand for high-quality frozen food products that cater to the diverse tastes and preferences of consumers.

Busy Fast-Paced Life:


The hectic and busy lifestyle of people in urban areas has also contributed to the growth of the frozen food businesses in India. Consumers want food that is quick and easy to prepare, and frozen food products fulfill this need by providing a variety of convenient meal options that can be prepared in a matter of minutes.

Technological advancements:

With the advent of new technologies, the frozen foods industry in India has become more efficient and streamlined. This has helped to reduce production costs and improve product quality.
Challenges in the Frozen Food Businesses 
Despite the growth potential, the frozen food businesses in India also face certain challenges. Here are some of the main challenges:
Lack of Awareness: 

One of the main challenges faced by the frozen food businesses in India is a need for more awareness among consumers about the benefits of frozen foods. Many people still have misconceptions about frozen foods, such as that they are less healthy than fresh foods or that they are less tasty.

Infrastructure


Another major challenge is the lack of proper infrastructure for the storage, transportation, and distribution of frozen foods.
This is particularly true in areas where the infrastructure is often inadequate. In addition, power cuts and other disruptions in the cold chain can cause spoilage and loss of products.

Price Competition:

The frozen foods industry in India is highly competitive, and there is a lot of price competition among producers. This makes it challenging for small-scale businesses to compete with larger players who have economies of scale and greater bargaining power with suppliers

Regulations:

The frozen food businesses in India are subject to various regulations, including food safety and labeling requirements. These regulations can be complex and difficult to navigate, particularly for small businesses that may not have the resources to comply with them.

Overall, while the frozen food businesses in India present many opportunities for growth; it also requires careful planning, investment in infrastructure, quality control, awareness of the competitive landscape, and adherence to the regulatory environment.
How to Start a Successful Frozen Food Business in India?
Starting a small-scale frozen food business requires careful planning and execution. Here are some essential steps to follow:
Conduct Market Research and Define Your Target Audience:

Before starting any business, it's crucial to research the market and understand your ideal customer base. Identify the demand for frozen foods in your area and research your competitors to develop effective marketing strategies

Choose a Suitable Location:

To succeed in the frozen foods industry, it's essential to choose a location with heavy foot traffic. Look for areas with high demand for frozen foods, such as busy marketplaces, office districts, or residential areas.

Find Reliable Suppliers:

Identify reliable suppliers who can provide high-quality frozen foods to keep your customers satisfied. Make sure your supplier can meet your demand and avoid stock shortages.

Obtain the Necessary licenses and permits:

To start a frozen foods business in India, you need to obtain an FSSAI license. The type of license required depends on the scale of your business. If you are a small-scale operator, you can apply for an FSSAI registration, while larger businesses need to obtain an FSSAI license. The FSSAI sets standards for frozen food products in terms of their quality, packaging, labeling, and storage. It is mandatory for all frozen food products to adhere to these standards. The FSSAI also carries out inspections and audits of food businesses to ensure compliance with the regulations.

Purchase Required Equipment:

To initiate a frozen foods business, essential equipment like deep freezers, weighing scales, cold storage delivery vans, and other necessary items must be procured. The purchase of deep freezers is imperative for storing frozen foods for prolonged periods. To curtail the costs, pre-owned equipment can be purchased. Nevertheless, it is vital to make sure that the equipment is in line with safety standards and is well-maintained to avert any future complications.

Develop Effective Marketing Strategies:

Create a SWOT analysis to study your strengths, weaknesses, opportunities, and threats. Use this analysis to develop effective marketing strategies both online and offline to attract your target audience. Consider offering discounts or cashback to increase customer loyalty.

How can a Third-Party Manufacturer of Frozen Food  Help?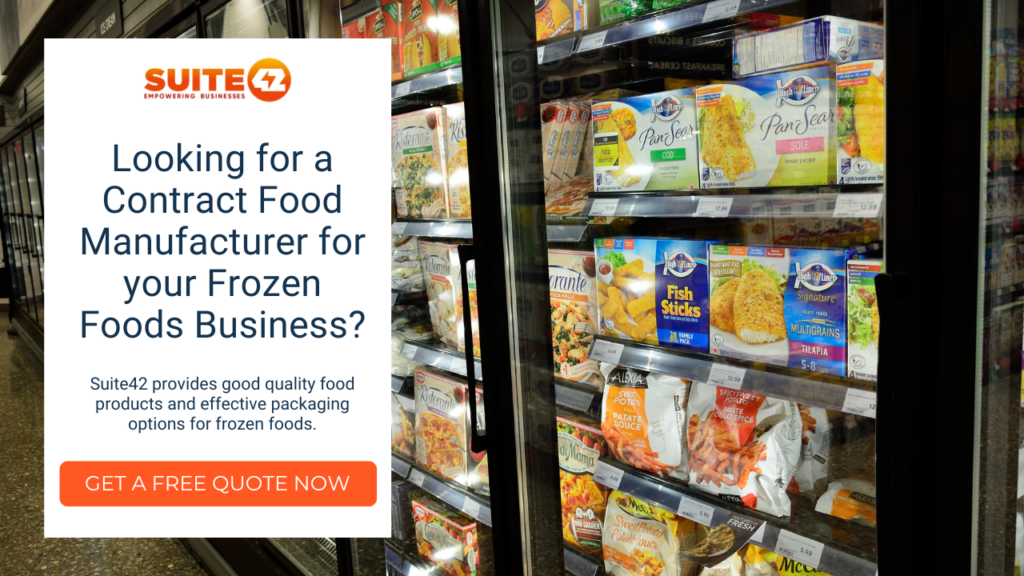 A 3P Food Manufacturer is considered a smart choice for Frozen Foods Business today.
Food Businesses have been operating in an adventurous manner due to the nature of the industry. However, the demand of customers for different cuisines and products varies.
Therefore, food business owners have to ensure that they are able to fulfill these demands. The production can keep changing due to varying demands. Having an in-house unit can be expensive to manage the ever-changing market expectations. This is where a contract food manufacturing partner plays a vital role.
With the right partner on your side, you can easily meet the demands of your customers without worrying about a sudden increase or decrease in production.
One of the challenges mentioned above is Competitive Pricing. Frozen foods businesses face cut-throat competition; however, there is a smart way to stay ahead in the market.
That is by choosing the right contract manufacturing firm. A good contract manufacturing firm helps you cope with this challenge. They help you add or change raw material suppliers, manufacture good quality products, and package them well to maintain the quality of the product.
An experienced contract manufacturing firm can also help with launching a new product line. They can furnish you with complete market research to help you develop a new product.
Here's a blog that can help you know the benefits of partnering with a reliable contract food manufacturer.
Suite42 is a reliable and trusted food contract manufacturing company in India that works with food and beverage businesses to empower them to grow. We help brands with product manufacturing, new product development, quality assurance, and launching new product lines. We assist enterprises operating in Agri Commodities, Food Ingredients, Processed Foods, and Nutraceuticals. 
We were featured in Inc42